Pop piano video – Example to learn improvisation
Improvising in pop style is pleasant, because there is less harmonic tension. Instead the emotional tension is even superior, in some moments, respect to jazz or blues improvisations. Obviously, these are just general considerations. The true goal of an improvisation is creating phrases you could sing, similar to pop music melodies.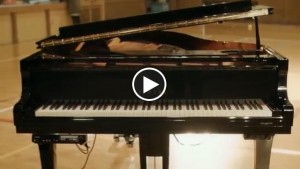 It is just as if the improvisor has to compose a pop hit in an improvised way. Some years ago, I read these concepts on a famous pianist's book and I have to say they are deep considerations. For me, every musician is free to direct his solo toward any direction he want when improvises, but play beautiful melodic line as a pop one means playing for the public and for if himself.
Often, instead, many improvisors play just to show their pure technical skill: they often play difficult passages, giving a complex and acrobatic direction to their music that often expresses a kind of musical narcissism
In this pop improvisation video, I improvise only on two major chords: CM7 and FM7. This simple progression creates an open, solar, and expressive sonority. On bass, I simply play arpeggios  and sometimes I create polyrhythm with the right hand.