Pop rhythm and blues pianist, jazz piano improvisation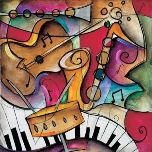 Piano and music jazz improvisation are my passions. I wish to share them with you, offering my music and free resources to learn this magic Art.
Blues, soul, jazz, funk, dance and pop are my favorite styles. I love artists as Ray Charles, Alicia Keys, Steve Wonder, Pink Floyd, Michael Jackson, Eric Clapton, Santana, Supertramp and many others. As pianist I grow up listening Bill Evans, Keith Jarrett, Ahmad Jamal, Chick Corea, Herbie Hancock.
I have been studying piano for 30 years and I graduated from Saint Cecilia music Conservatory in Rome. Now, I teach piano, jazz, music harmony and I am promoting my music on the Web.
Rhythm and blues, jazz improvisation and piano harmony
Music is expression of emotions.
Creativity, fantasy and originality are the best ways of express them.
The Art of Improvisation is the most original and creative language of music.
I am publishing free resources on jazz improvisation, piano techniques, music harmony and theory. I hope you can understand what I write in this site. My English is not perfect as you can note but I want to share what I know with more friends as possible. I am building other sites about jazz improvisation, piano techniques and music harmony and I want to give all I know for free.
I am glad if you want help me to develop these resources but I desire above all you can learn the magic art of improvisation.
I am publishing other sites about music theory, harmony, jazz improvisation and piano techniques.

Musilosophy Improvisation Open Project : MIOP

Rhythm and blues music was born as a fusion of different musical styles. It derives from the Blues, in its essence, and has had more contaminations with pop music than Jazz. Gospel and Spiritual are other fundamental ingredients of Rhythm and blues. This style has become rich of musical subgenres: Soul, Funk or funky pop (not to confuse with the jazz funk developed from Miles Davis in `60s and '70s), until arriving to Hip Hop, belong to it. Rhythm and blues is a music style with many subgenres forms. It conciliates pop melodies with jazz and above all with blues sounds and rhythms. According to me, the most important Rhythm and blues artists are Aretha Franklin, Ray Charles, James Brown (unfortunately died some weeks ago), Steve Wonder, Michael Jackson and recently I find much pleasant and interesting the music and style by Alicia Keys.
Jazz piano improvisation, rhythm and blues, pop music albums
Pop soul rhythm and blues album : 'All Night Long'

All Night Long is a collection of pop songs with rhythm and blues, soul and jazz contaminations. Last year I have recorded this album and now I am promoting it on Internet. You can listen every song clip for free. Three songs of the album has a video: "The colour of your eyes", "Other World" and "All Night Long".
If you like the album you can buy it on Itunes, Rhapsody, Emusic or other mp3 stores.
Dance rhythm and blues piano album "Fusion"

Piano Fender Rhodes improvisations on rhythm and blues and dance rhythms. New jazz concepts about modal harmony. The album contains a fusion of different styles. I like very much to improvise with electric piano on a dance groove. The bass lines are very simple on a modal harmony.
Solo jazz piano improvisations : "Piano fragments"

Acoustic Piano fragmentss: totally improvised album title Piano fragments. Do you know who is the greatest living musician? For me he is Keith Jarrett, a genius and not only a pianist. His jazz improvisations bring you to the magic, spiritual and mystic sense of music based on Gurdjieff 's teaching. In this album I have tried to follow that direction, playing and recording without preparing chords and any other pre-material.